SOI.Pro currently distributes software (provided by a partner from Israel) as an efficient tool for data collection across various platforms, but able to generate a unified report according to user preferences. From there, businesses can easily store data, compare by time and branch, and more easily manage and access service quality assessment data.
Specifically, the results collected from customer surveys, secret customers, camera channels, phones, etc… can all become input data for the system. With this software system, data at several inputs will immediately be able to produce appropriate results for each department to handle service quality-related problems as soon as possible.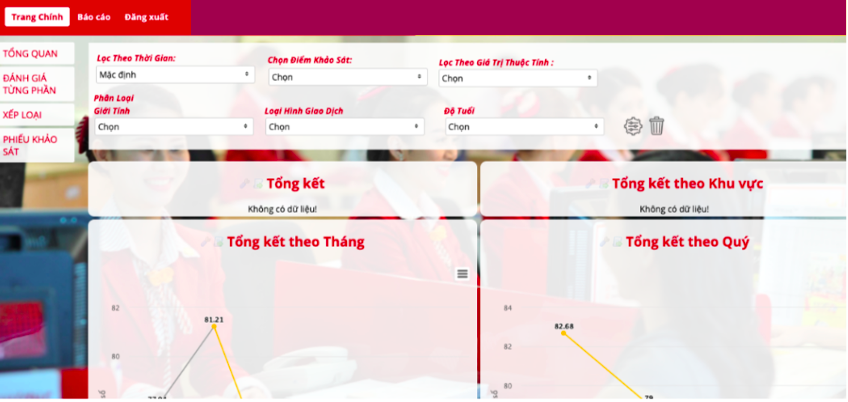 For example, as soon as the customer's evaluation result of the service quality is not as expected, the results will be returned to the customer care department within 24 hours to have time to process and contact customers, limiting customers' negative feelings towards the business is prolonged or widespread. Or in the case where a customer complains about the employee's ability, the report will be returned to the training department or the employee himself so that service quality can be improved immediately.
The software will connect the provided data and automatically extract reports to evaluate the service quality and give the service quality trends compared over time or across branches. This is a tool for aggregating data from other sources and deploying reports more easily and accurately.
Benefits of using the software
Use software to conduct surveys, no need to enter data
No longer need to process raw data for analysis and report building
The system automatically generates tables and reports according to user preferences
A convenient communication platform for those who conduct assessments/surveys without the need for any other communication tools.
Monitor reviews and feedback in real-time, storing data from a variety of sources.
Reports are connected to the system and given it back to the appropriate parts in a short time for the fastest processing direction for customers.
To improve service quality and customer experience, please contact SOI.Pro for more details!
Hotline: 0962 08 00 55
Email: info@soi.pro.vn