Currently, online shopping is more explosive than ever and customers' shopping behavior is also gradually changing. However, the demands of customers are increasing as they not only look for shopping experiences but also interesting and inspiring experiences. Therefore, the concept of Shoppertainment  was created with the mission of meeting the shopping and entertainment needs of digital generation customers.
What is Shoppertainment ?
Shoppertainment  is a combination of Shopper and Entertainment. Following this trend, consumers not only shop online but also can interact directly with sellers in real time through some forms such as livestream, video, video games.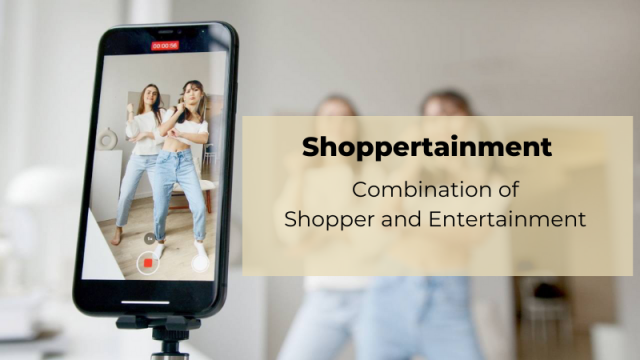 Features of the trend Shoppertainment 
Shoppertainment  is almost the same as previous types of phone shopping or homeshopping. Including a person or group of people participating in a presentation promoting the product. However, instead of just communicating information from sellers, now in live streams, there will be more interaction from customers.
So it can be seen that the highlight of Shoppertainment  is the direct interaction between buyers and sellers. Buyers may be able to directly ask questions about the product, and even give the seller gifts or virtual items. For sellers, besides introducing products, they can interact with customers by telling stories, organizing some entertainment activities or promotions and discounts.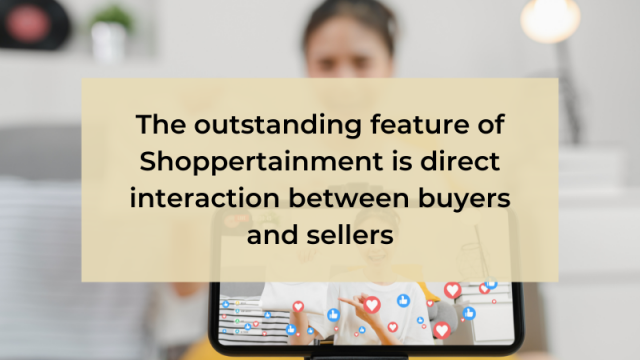 Some forms of Shoppertainment  trends
Livestream: is a form of sales by streaming live videos. In these livestreams, sellers can get a lot of views and sell thousands of orders in a few hours. Currently, social networks or e-commerce platforms all support this form and are a good development opportunity for brands if they know how to take advantage and can make this form of purchase.
Gamification: the use of game mechanics in promoting and selling products. Even in Vietnam, e-commerce applications or platforms and brands have also applied this form. For example, the programs "Shake Super Coins", "Shopee Arena", "Lucky Wheels / Lucky Numbers" as a result, buyers will receive discount codes, free shipping codes or gift sets. from the seller. Thereby stimulating purchase demand and leading to conversions into orders.
Virtual reality: create virtual experiences, customers can interact or try products with technology. For example, on e-commerce platforms, the famous cosmetic brand Maybelline has a section for customers to try lipstick colors, foundation colors on the face through virtual reality mechanisms. Customers will get a brief assessment of whether the product is suitable for them and decide to buy without spending time in the store.
Shoppertainment  leads the customer experience
According to Sameer Singh, TikTok's Global Business Solutions Manager, Asia Pacific, "The e-commerce experience is about delivering the best deals to the right audience as efficiently as possible. However, consumers' buying habits are changing. Consumers will say no to offers, but they will say yes to entertainment experiences." It is from this mentality that creates an opportunity for brands to embrace the Shoppertainment  trend. 
In addition,consumers in this day and age want a more social and interactive online shopping experience, as well as being able to exchange and share information while shopping. For example, the hashtag #TikTokMadeMeBuyIt has reached a huge level of spread with 43.2 billion views (up to now) in which users can tag this in simple videos sharing their shopping experiences and share it through the TikTok platform.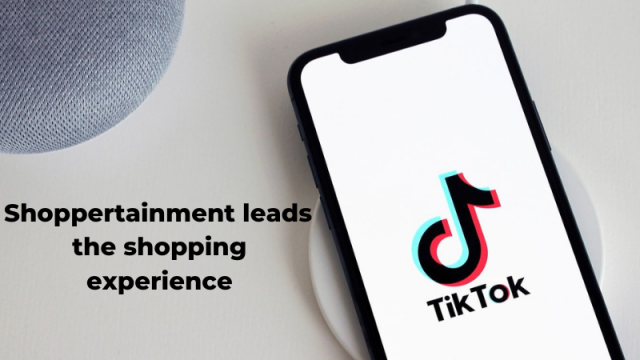 Conclusion 
Thus, it can be seen that today's customers have a high-level shopping journey because it must also be associated with entertainment experiences so that their experience journey with the brand becomes the most perfect. Shoppertainment  trends are the key to online consumption to satisfy all customers in the  digital age so brands must necessarily stay up-to-date and embrace to succeed.
To improve service quality and create impressive experiences with customers. Please contact SOI.Pro for more information!
Hotline: 0962 08 00 55
Email: info@soi.pro.vn